Press
Breaking Bad Season 3 Is a Must, Say Entertainment Weekly and USA Today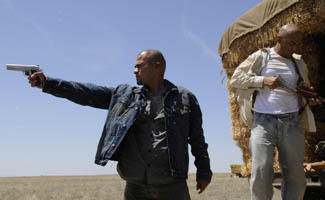 Press outlets across the country, from The New York Times and Entertainment Weekly to the Los Angeles Times and the San Francisco Chronicle, are all heaping praise on the third Season of Breaking Bad, which premieres this Sun., Mar. 21 at 10PM | 9C. Here's what they have to say:
• The usual suspects are weighing in with positive reactions: Variety and Entertainment Weekly (which includes Breaking Bad on its Must List) among them.
• Breaking Bad a replacement for The Sopranos? According to the Star-Ledger, "When The Sopranos ended, everyone wondered what show, if any, would be able to pick up its mantle. AMC, as it turns out, has two that have managed to shoulder the load together."
• USA Today has a cover story on the "often-violent, frequently twisted and occasionally wickedly funny AMC drama." The New York Daily News and Los Angeles Times get in on the action too.
• And how about this from the San Francisco Chronicle? "This is a series that has gone to greatness as fast as any of television's truly excellent offerings."
• The New York Times has Bryan Cranston analyze a scene from the premiere, one that represents "Walter White in the transition of his character at this point in his life." The Times also features the show in an article that discusses the "guilt-wracked" Mr. White.
• The Detroit News says that Breaking Bad Season 3 is "smart and addictive," adding that "the tension increases and the truth of who [these characters] are and what they are capable of becomes ever clearer and ever-more fascinating."
• The Boston Globe calls the show "a transfixing small-screen epic."
• IGN talks to the cast about Season 3. Says Bryan Cranston, "We figured that if Skyler ever found out what was going on, game over. And in the first episode of the third season, she finds out. From that point on, it spins further out of control."
• The Fort-Worth Star-Telegram counts the ways Breaking Bad is good, and notes how "some TV series have good dialogue. Breaking Bad… has great silences."
• Breaking Bad is included in The San Diego Union Tribune's feature on TV's Head Cases. "Thanks to a knockout cast and its penchant for pitch-black humor," the piece says, "this dark look at the American Dream is just demented enough to be practically sane."
• Metro New York spotlights Breaking Bad in its spring television guide, calling the show "utterly magnetizing." Of the series, Film.com says, "Television doesn't come any darker, but neither does it ever get better." The Oakland Tribune puts it at No. 1 on its list of the 10 Best TV Shows Right Now. Newsday gives the show an A+.
• The screening of Breaking Bad's Season 3 premiere last week was "harder to get invited to than the Oscars," PopEater writes. Reelz Channel interviewed Aaron Paul, Dean Norris and Bryan Cranston at the premiere.
• Vince Gilligan talks to the San Francisco Chronicle in a podcast. The paper calls Breaking Bad's creator "one of television's brightest stars." Gilligan also tells TV Squad that Walter White is an "Olympic-class liar" and reveals that M*A*S*H was one of his favorite shows.
• The Philadelphia Daily News interviews Bryan Cranston, who says of Walt, he's discovered "he can be seduced. His moral center can be off-put and realigned, and he can still live with himself." Meanwhile, Anna Gunn talks to AOL TV, characterizing Season 3 as "a season of great conflict" for Skyler and Walt. Backstage chats with both Cranston and Gunn, who play "the most messed-up–yet relatable–couple on TV."
• Season 3 was "the scariest to play," Aaron Paul tells Zap2It, adding that the upcoming season goes to "a very dark place." The Associated Press also chatted with Paul.
• R.J. Mitte speaks to the Pittsburgh Post-Gazette about becoming an advocate for the rights of people with disabilities in the entertainment industry: "About 20 percent of people have disabilities, but only about 1 percent of speaking parts in television portray disability."
• Bob Odenkirk (Saul Goodman) is interviewed by The Fader.com and Time Out Chicago. The Fader writes, "In a show full of desperate people doing desperate things, Odenkirk's character stands out as a ray of comic relief."
• If you haven't got a hold of the Season 2 DVD yet (which was released on Tuesday), check out the Salt Lake Tribune's review. Not convincing enough? Maybe this preview of bloopers from the special features will do it.
• Last stop: New York City. The Breaking Bad RV Tour traveled the country for six weeks, giving viewers a chance to take tours of the Breaking Bad Screening Lab, a 53-foot-long bio-diesel truck. It ended up in Manhattan's Times Square on March 19.
• Also, don't miss this Funny or Die video in which Bryan Cranston loses his sense of smell.
Read More