Uncategorized
Bryan Cranston Answers Fan Questions (Part I)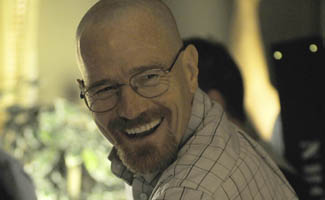 In the first part of Bryan Cranston's chat with fans, the Emmy-winning Breaking Bad star describes how his father helps him get into Heisenberg's head and what it's like to be on television's most bald-friendly series.
Jwitcher: A lot of actors say that every role they play leaves a mark on them. What parts of Walt do you think have stuck with you?
A: There is an element that is there, and the character of Walt is so indelible in my mind, I'm sure I will carry a piece of him forever. There are parts of each character that you play for any length of time that kind of blends. You discover something in a way of delivering a line, or gesture, or something that got a laugh or was very effective dramatically, and you end up using that in your real life. But when it comes time at the end of the day for me to go home, I do everything possible to wash Walt out of my psyche.
diksee: Have the scenes where Walt is being bullied, and he starts retaliating with growing ferocity as "Heisenberg," affected how you react to uncomfortable situations in your real life?
BC: I think naturally, if you're an actor, there's a high level of assertiveness that you need to have to survive this business. There's boldness in being assertive, and there's strength and confidence. I have that in my life — it's not that you want to show those colors all the time — but I'm capable of being the Alpha male. And quite frankly it's exhausting. But this is new to Walt. He's never been the Alpha — and that's very seductive to a man. That's powerful, and for Walt to feel that for the first time in his adult life is quite an experience.
vincentg: Do you have to do anything to get into the Heisenberg state of mind?
A: I do. The imagination is part of the arsenal that actors draw from. I thought of my dad a lot, simply because he's 85 now. There's weightiness to him, and an occasional weariness that comes with an older man. But I always felt that Walt was older than his age, and I think that comes through — that he feels older and wearied, even at 50.
Mario: What's your physical regimen to make Walter White look frail, and yet keep Bryan Cranston healthy?
A: Yeah that's the key. I knew that I was going to go on the chemotherapy as a character and that would necessitate a weight loss and a hair loss. And the happy accident that happened with that is that the character of Walt found it more useful: A bald man is more intimidating as a generality. What's interesting is a man with no facial hair is less intimidating than a man with facial hair, and a man who is bald is more intimidating than a man with hair. And so what happened is we grew out the facial hair, we balded it up, and that also worked on another level where I think Walt felt that as long as he didn't recognize that man in the mirror, he could somehow justify his actions.
dave is ok: How does it feel to be on one of the most bald-friendly shows on television?
A: [Laughs] I wonder if dave is bald too… Yeah, there's a lot of baldness, and it's Breaking Bad's homage to bald-headedness in the world. There's not enough baldness on television, so we're trying to do our fair share. It's a minority group, but we're trying.
Click here to read the second half of Bryan Cranston's interview for Season 3.
Read More