Press
Postcard From the Screening Lab Tour – Gonzo Rocks the ABQ, L.A. Fans Break Bad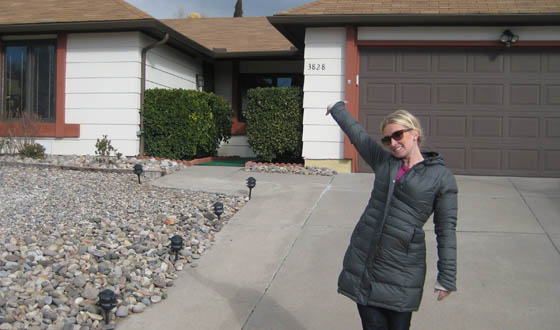 Hello again, friends! Holy moly have things been crazy on the Breaking Bad tour. We've traveled across the country to cities like Albuquerque and Los Angeles, and I've finally found a free moment to tell you all about it.
It was my very first time to Albuquerque and homegirl can see why Vince Gilligan chose this beautiful vista: Not only is the landscape absolutely breathtaking, but the Tex-Mex is pretty killer too! Seriously, if you're ever in the neighborhood check-out Sadie's — after you stop by Los Pollos Hermanos, of course! I also made a pitstop at the White's house, now a major tourist destination to be sure (see pic).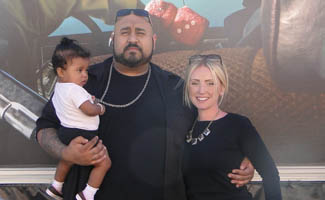 Anyway, what a day we had: Some familiar faces stopped by, like Jesus Jr. (Gonzo) along with his gorgeous baby daughter. The man is a total teddy bear! He told us about a scene he was filming with Aaron in which he was so concerned about pulling young Jesse back by his hoodie that he accidentally stabbed him with the massive bling he rocks around his neck. Then Steven Michael Quezada who plays Gomez made an appearance — he told us about his amazing charity work and the program he has to educate children on filmmaking. I also got to see some of the blue meth Walt whips up, courtesy of one of our special effects masters, Jack Brunacin! And did I mention, a few of our street team members have been extras on the show? It was a Breaking Bad bonanza!
Los Angeles was equally outrageous. Now, I don't want to start another East Coast vs. West Coast showdown (much love to Biggie and Tupac), but New York fans have quite a lot to live up to this Friday in Times Square. In La La Land, I met some of the biggest Breaking Bad fans out there: Jorgen and Hal, for instance, are such big fans of the show they actually made their own T-shirts! They even broke bad and took the day off from work to drive down to Hollywood to check out the Screening Lab. Now that's commitment, ladies and gentlemen!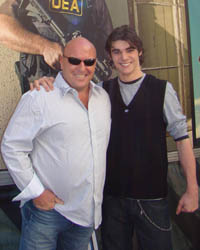 Then we have our buddy R.W. (a regular on the talk forum) who actually recognized yours truly from this very column! He wants to be stunt double for Dean Norris (Hank) and based on his charisma, physique and ability to consume beer I think he could do it! And let's not forget that Dean and RJ Mitte (Walter Jr.) made an appearance as well, which was exciting to say the least. The fans were pumped to see them mere hours before the stars hit up the red carpet at the Season 3 Premiere party that night. And speaking of the premiere, you guys will NOT be disappointed when you see it on Sun., Mar. 21. All I'm saying is, don't lie to your pregnant wife or tick off bad ass gangsters, because there will be consequences.
Next up is the Big Apple, New York City! I better see all you Manhattanites out there this Friday from 10AM to 6PM in Times Square, getting your mug shots taken! And did I mention Aaron Paul, Bryan Cranston and creator Vince Gillian will be stopping by around noon? How could you NOT be there?!
Read More