Uncategorized
Talk Forum – What You're Saying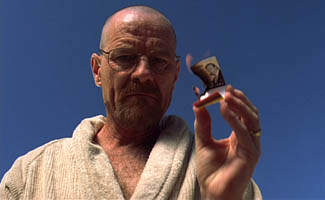 Anticipation is mounting for the Season 3 premiere on Sun., Mar. 21 at 10PM | 9C, and the talk forum is abuzz with viewer predictions and guesses as to why Walt seems to be burning money in the teaser.
• "[T]he only way Skyler could possibly condone what Walt has done, since he's clearly going to tell her what he's been up to, is to give him the ultimatum to burn the money and she'll come back. If you look at Walt's face in the short clip they give us, he is certainly not happy burning that money." — Borito1
• "My first goofy theory… was that Walt was doing a TV commercial for Saul, with the tag line 'In trouble, but don't have money to burn? Better Call Saul.' In this theory, it's toy money. Later I came up with my second goofy theory, that Gus is somehow in cahoots with the government, and the money he pays Walt consists of marked bills that can be traced back to him, so he burns it." — rockmama
• "Seems to me that burning up the money is a very counterproductive act. Walt has worked so hard to make it and then he destroys it it all. Very symbolic of the entire story I think. Walt is a self-destructive individual." — R.W.
Log onto the Talk forum to join in any of these conversations or start a Breaking Bad topic of your own.
Read More