Press
Breaking Bad Lands Five Saturn Award Nominations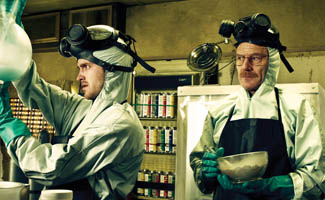 The Academy of Science Fiction, Fantasy & Horror Films today announced their nominations for the 36th Annual Saturn Awards, and Breaking Bad was honored with a total of five nominations including Best Syndicated/Cable Television Series, Best Actor (Bryan Cranston), Best Actress (Anna Gunn), Best Supporting Actor (Aaron Paul) and Best Guest Starring Role in Television (Raymond Cruz as Tuco),
Competing with Breaking Bad in the Best Television Series category is SyFy's Battlestar Galactica, TNT's The Closer and Leverage, Showtime's Dexter and HBO's True Blood.
In the Best Actor and Actress categories the competition is no less fierce. Two-time Emmy winner Bryan Cranston will be up against Lost's Josh Holloway and Matthew Fox, Dexter's Michael C. Hall, Chuck's Zachary Levi, True Blood's Stephen Moyer and Doctor Who's David Tennant.
Anna Gunn, meanwhile, will face The Ghost Whisperer's Jennifer Love Hewitt, Lost's Evangeline Lilly, True Blood's Anna Paquin, The Closer's Kyra Sedgwick and Fringe's Anna Torv.
Not to be outdone, Aaron Paul also earned a nomination in the Best Supporting Actor category, in which he'll face Fringe's John Noble, Lost's Michael Emerson and Jeremy Davies, True Blood's Alexander Skarsgard and Leverage's Aldis Hodge.
Rounding out the nominations is a Best Guest Starring Role in Television for Raymond Cruz (Tuco), who will be up against such competition as Dexter's John Lithgow and Fringe's Leonard Nimoy.
The 36th Annual Saturn Awards will take place on June 24 in Burbank, California.
Read More