Press
Breaking Bad Scores Three Prism Award Nominations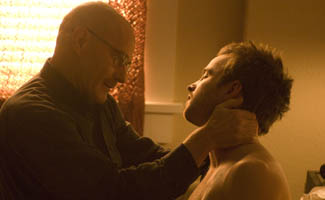 The Entertainment Industries Council has announced its nominees for the 14th annual Prism Awards, and Breaking Bad was honored with three nominations: one in the Drama Series Multi-Episode Story Line category and one each for Bryan Cranston and Aaron Paul in the Performance in a Drama Series Multi-Episode Story Line category.
The awards — produced in collaboration with the Substance Abuse and Mental Health Services Administration — honor actors, movies, music, and television shows that bring attention to substance abuse and mental-health issues.
Breaking Bad will face ABC's Grey's Anatomy and Private Practice, HBO's In Treatment, and Showtime's Nurse Jackie. Last year, Breaking Bad won.
Cranston and Paul will face Nurse Jackie's Edie Falco, In Treatment's John Mahoney, Grey's Anatomy's Kevin McKidd, and each other for the performance award.
The awards will be announced during a ceremony on Thursday, April 22, at the Beverly Hills Hotel.
Read More