Video
Video – Inside Season 3 With the Cast, Creator, and Writers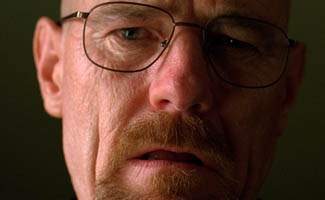 Jonesing for more information about the upcoming season of Breaking Bad? Get your fix with these two new behind-the-scenes videos from the set of Season 3, available on AMCtv.com and AMC's iPhone App.
First, hear from creator Vince Gilligan about how Season 3 is a "season of change." Bryan Cranston describes the breaking apart of Walt's family nucleus, while Betsy Brandt (Marie) hints at some "bad-ass" new characters on the horizon. "If you liked the first two seasons," says Aaron Paul (Jesse), "this next season is just gonna kick you on your ass."
Then go into the Breaking Bad Writers Room with AMC News Correspondent Jacob Soboroff, who finds out how ideas go from Post-it notes onto the television screen. Soboroff also gets a peek at some of the arts-and-crafts antics that go on when Vince Gilligan and his staff of writers lock themselves in a room for nine hours.

Breaking Bad Season 3 premieres Sun., Mar. 21, at 10PM | 9C.

Read More