Press
Postcard From the Screening Lab Tour – Breaking Bad Bowls Over Miami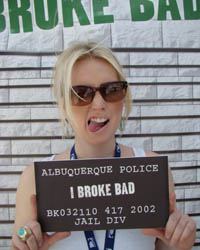 Hi, guys! Let me start off by introducing myself: my name is Tiffany, and I'll be joining AMC on the road for the next six weeks, with the Breaking Bad Screening Lab. Jealous? You should be.
After months of preparation, we finally kicked off the tour, this past weekend, in Miami, at the DirecTV Celebrity Beach Bowl. Aaron Paul was in attendance, proving he's not only an incredible actor but can also get down and dirty on the gridiron. Granted, there were Playboy Bunnies participating.
After his team was victorious, Aaron stopped by the Lab and dug the whole setup. It was incredible sitting in our mobile theater with him as he watched the seven-minute promo piece we put together. He even hung around afterward to take pictures, sign autographs, and corral people into the theater. He's a one-man marketing machine — I wish he were with us at every stop.
The entire truck, from the exterior wraps to the interior theater, is stunning. Needless to say, this was the perfect way to jump-start the promotion. People raved about the show and how they couldn't wait for the third season. And if they weren't viewers before, they walked away vowing to tune in for the premiere, on Sunday, March 21.
Next up: we're headed to Tampa, for the Florida State Fair. I'll be providing updates from the road, so stay tuned. Now go break bad!
Read More