Press
Newsday and The Fort-Worth Star Telegram Place Breaking Bad Atop Their 2009 Picks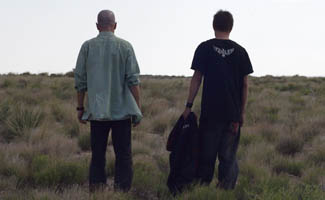 Breaking Bad continues to find its place on television critics' year-end lists. This week the kudos came from Newsday, USA Today, The Boston Globe and New York Magazine.
• Breaking Bad lands squarely in USA Today's 2009 in Review: Tops in Television list
• Newsday's Verne Gay lists Breaking Bad as Number 1 in the year's Best TV: "Spectacular acting and writing … a harrowing and deeply, insistently moralistic tale," he says, "plus, a season finale that sent my jaw tumbling to the floor."
• The Boston Globe says Breaking Bad is a show "worthy of your attention," citing its "tightly written, tense episodes and performances that are among the best on TV."
• Vince Horiuchi of The Salt Lake Tribune thanks AMC for "dazzling seasons of Mad Men and Breaking Bad," in 2009.
• The Salt Lake Tribune also calls out Breaking Bad in its Top Ten TV Shows of 2009 feature, saying, "AMC's other drama continues to be a bold, unpredictable streak of madness and twisted humor."
• Breaking Bad lands on The Plain Dealer's TV Top 10. "You can't help being fascinated by the dangerous currents sweeping [Walt] along to oblivion," critic Mark Dawidziak explains.
• The Oregonian's DeAnn Welker lists AMC in its Best Television of the Decade feature, calling out "Breaking Bad which is all movement — but in a good way…"
• Breaking Bad is Number 1 on The Fort-Worth Star Telegram's Top TV Shows of the Year list. The article hails Bryan Cranston's Emmy-winning performance and explains, "This season, everyone else involved came up to Cranston's level."
• New York Magazine hails Aaron Paul as one of the Unsung Heroes of 2009. Citing Episode 206, "Peekaboo," the magazine argues that, "Paul pushed his drug dealer Jesse Pinkman from doofus sidekick to achingly affecting f–k-up."
Read More