Breaking Bad Nets Two WGA Nominations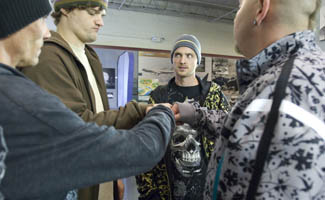 The Writers Guild of America today announced the nominations for their 2010 awards, and AMC's Breaking Bad was honored in both the Drama Series category as well as the Episodic Drama category (for Season 2, Episode 12, "Phoenix"). Mad Men received a total of three nominations, raising AMC's total to five and making it the only basic cable network to receive nominations for original television series (Drama or Comedy).
In the Drama Series category, Breaking Bad will go up against Showtime's Dexter, NBC's Friday Night Lights, ABC's Lost and AMC's own Mad Men.
Breaking Bad writer John Shiban's penultimate Season 2 Episode is nominated alongside House's "Broken, Part 1 and Part 2," (Fox), Big Love's "Come, Ye Saints," (HBO), True Blood's "I Will Rise Up," (HBO) and Mad Men's "The Grown Ups" and "Guy Walks Into an Advertising Agency."
The winners will be announced during a ceremony at the Hyatt Regency Century Plaza Hotel in Los Angeles and simultaneously at the Hudson Theatre at the Millennium Broadway Hotel in New York City on Sat., Feb. 20, 2010.
Read More