Uncategorized
Q&A – Jim Hollis and Rob Landry of the National Cancer Coalition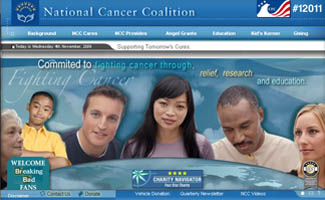 The National Cancer Coalition's President Rob Landry and Corporate Relations Manager Jim Hollis discuss the Save Walter White website (which links to their charity's website), their work helping patients battle cancer, and what those patients could learn from Walter White in AMCtv.com's exclusive interview.
Q: What kinds of services does the National Cancer Coalition provide to cancer patients?
JH: We take donated money and make it available to cancer institutes to go to meeting the unmet needs of cancer patients. For example, you have some patients that have to travel a great distance for chemo treatments or radiation. And with the price of gas it's kind of expensive. So a lot of people are not doing their treatments because they can't afford to. So this money goes to help them with gas, with lodging, with some of the medicines that insurance doesn't cover, and just kind of helps them to complete their battle with cancer.
Q: How did you hear about Breaking Bad?
JH: I was a big fan of the show before we even made the connection. And one day we got an e-mail pointing us to the Save Walter White website. So we went up on our website and welcomed fans of the show. We wanted to make sure they weren't being deceived.
Q: Did you notice your site's traffic increased?
RL: We definitely had some donations come in, and we certainly had a spike in visitors to the website — like five or seven thousand suddenly were eyeballing and going through the website. So thank you. [Laughs]
JH: There was definitely an influx. There were some who thought it might be legitimate, that Walter White was a real person. So we made a point to contact them and ask them, "Do you still want to donate?" We told them about our cause, and they still contributed.
Q: How accurate would you say the show is in its depiction of cancer treatment?
JH: They obviously don't go into a whole lot of detail on the show, but it seems pretty accurate. You guys don't get into the suffering nearly as much. When he's vomiting and stuff, that's pretty accurate. With cancer you'll see rooms full of people just laid up, barely able to just watch TV because it takes so much out of them.
RL: Breaking Bad shows you the depth of the situation that some people find themselves in. A lot of the time what we see is that even if we can give them a little support or a little help, the fact that somebody from the outside of their situation comes in and helps them — even if its in a small way — that really means a lot to them emotionally. Part of Walter's problem is that he's got this physical issue, but it's an emotional issue too. When you can come in and help people in some way they didn't expect, that really helps treat the whole person, which is something we really didn't expect to see when we started doing these programs.
Q: What message do you think Breaking Bad viewers should get from watching the show?
JH: From our perspective, there is an unmet need, and there are people out there trying to fill it. If there are people that are watching the show that can afford to give, there are also people that are struggling. And I think you're hitting that message spot-on with the website. You're like, "Hey we don't have any money, how can I go out and get more?" It parallels very nicely.
Q: What do you think of Walt's solution to this problem?
JH: [Laughs] Albeit questionable legally, he's taking his skill set and working it to his advantage. His resourcefulness is his greatest asset. You know, dig deep and find out what you know and how you can leverage it. He's got a good heart, and he's doing about the only thing he can to survive. You've got to admire him for that, even though he chose to do something illegal.
Read More