Interviews
Q&A – Matt L. Jones (Badger)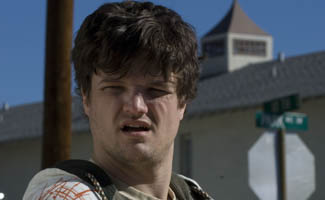 The actor describes what goes on in his character's head, living the dream of singing in a rock band and the real reason Badger turned to a life of crime in AMCtv.com's exclusive interview.
Q: When you were cast as Badger, did you think the role would become as big as it has?
A: No I really didn't. In the first season, I was supposed to be in the episode right after the one I was in — I was supposed to introduce Tuco to Jesse. And Vince Gilligan called me and was like, "Hey I know we were going to have you do this, but we just like Badger too much. We don't think Badger would ever be associated with anybody like Tuco." And I was like, you know that does make a lot of sense. So he said, "Don't worry, we're going to bring you back in Season 2." And true to his word, they did.
Q: You do a lot of improv comedy with the Upright Citizens Brigade. Do you get to improvise on Breaking Bad?
A: Actually I do. They let me do a lot more than they probably should [laughs]. The writers are really amazing — they can write really well for Badger, so I don't have to do much. But they let me play around with it quite a bit.
Q: Does that mean you've gotten inside Badger's head?
A: Uhhh, there's not really much inside of Badger's head. [Laughs] The only stuff in Badger's head is boobs and bong residue. He's like a lot of friends I've had. That's why people love the character — he's like "that guy" from your school.
Q: So you didn't have to do much research for the role.
A: [Laughs] Well, growing up I did my research, if you know what I mean. I'm not going to go into it. I'd like to say that it was really hard for me to get in that character, but it's really not. For some reason, when I got on set for my first episode, me and Aaron clicked so well that I just played off of him. I watch Bryan and Anna do scenes, and I'm like, wow that's amazing and intense. Not like Badger at all.
Q: You've starred in a lot of commercials. As a professional, what's your take on Saul's commercial?
A: It's amazing. You can't tell if it's a commercial for a lawyer or a strip club. It was actually a huge honor for me to work with Bob Odenkirk. I've been doing comedy for ten years, and all comedians look up to that guy. Our first scene together was after I'd gotten busted, and I'm sitting in that room and he walks in. We didn't really talk much before that, so he just walked in as Saul and started barking at me — it was really easy for me to play how confused and scared I was of him. He's a tornado.
Q: You were the lead singer in TwaughtHammer's "Fallacies" music video. Are you a musician?
A: I was actually in a band for a number of years. We went into the studio to record "Fallacies," and they were having me sing it an octave lower. And I said, "Hey do you mind if I try singing it up an octave?" So I tried it and they were like, "Oh, holy s— you can really sing!" And then they just had me sing the whole song. Thankfully the band I used to be in sucked just as much as TwaughtHammer, so that worked out.
Q: But did your other band ever record a music video?
A: No, we never did. So I got to live that dream.
Q: You were in an episode of MTV's "Truth," where you entered a mobile confession booth to tell a true story. What was the story?
A: I told this story about how when I was five I was a figure roller skater. And I did a routine to Macho Duck, which was "Macho Man" sung by Donald Duck. I was wearing a white sailor suit, and I crapped my pants right before I had to go on. And then my Mom had to buy a rainbow leotard for me at the skate shop. So instead of me wearing a sailor suit and dancing to Macho Duck, I wore a rainbow leotard and danced to Macho Duck. And I got third place, so…
Q: There's an excuse to turn to a life of crime.
A: Yeah, exactly [Laughs].
Read More