Press
Talk Forum and Comments – What You're Saying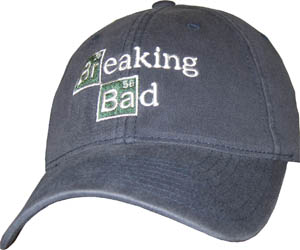 AMCtv.com awards the Talk forum commenters quoted in our weekly "What You're Saying" post with prizes like a Breaking Bad hat (limit one per person).
The fans this week were talking about how Walt and Skyler's relationship can be repaired, and readdressing the age-old topic of whether or not Walt can be redeemed.
• "The possibility of Skyler and Walt getting back together again romantically seems very remote right now. But, I could see them getting back together again… because deep down inside, they are truly devoted to each other and their family. When his cancer comes back, she'll give up everything she's gained while away from Walt to come back to care for him." — diksee
"We are all supposed to be conflicted about Walt's character as he goes further and further down this road. I think Walt is still a good man, but very lost right now. I think he will redeem himself, he will look at himself and see just how far he's fallen. I just hope it's not when it's too late." — Liz
"Walt is always the same guy that uses the same rationalization when he makes decisions. He only uses the name Heisenberg to try to keep his drug business from reaching him at his house." — kevin o
• "The whole reason for Walt's being was Skyler, Walter Jr. and Holly. Will he clean himself up? Walt could use a good cleansing of the soul, but he might or might not be beyond the point of no return — I'm still out on this question. I do think that as our show is all about Breaking Bad, that Walt will never be able to redeem his character and return to normal." — R.W.
• "I believe Skyler just was fed up with Walt's lies and deception in Season 2 and waiting for Walt to tell her what the devil was going on in his life. She did ask him several times to reveal his deceptive ways. I am not sure too many people would carry on a relationship based on lies and running off in the night without any explanation." — Lindas555
Log onto the Talk forum to join in any of these conversations or start a Breaking Bad topic of your own.
Read More