Talk Forum and Comments – What You're Saying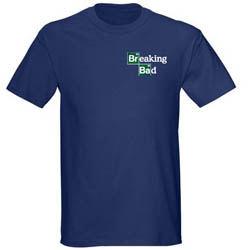 AMCtv.com awards the Talk forum commenters quoted in our weekly "What You're Saying" post with prizes like a Breaking Bad t-shirt or a Breaking Bad poster.
Fans this week were wondering what the implications are for Walt's kingpin pseudonym, making more predictions for Season 3 and lumping some overdue praise on themselves.
"In quantum physics, the Heisenberg uncertainty principle states that certain pairs of physical properties, like position and momentum, cannot both be known to arbitrary precision. That is, the more precisely one property is known, the less precisely the other can be known. So how do we use this? The closer they get to arresting Walt the more they will be lead in a different direction? The more they know about Blue Sky the less they will know about Heisenberg?" — Labrynth
"Walt has got to crash up against a strong female character to advance the story. My first choice is Skyler. I think Anna Gunn could hit a home run in Season 3, but if it isn't to be, then bring on Carmen." — WalkerColt
"When the plane crashed debris was falling from the sky and hit Skyler's car causing a wreck — maybe putting her in a coma and somehow not hurting Holly. When Skyler awakens from her coma she won't remember anything. She needs to come down to earth and smell the coffee, so to speak, and trust her husband of almost 20 years. I think the third season will start with a phone call to Walt telling him just this." — cindylou
"Reading these comments is coming close to being as good as the show itself. Such violence and drama!" — Freddy Krueger
Log onto the Talk forum to join in any of these conversations or start a Breaking Bad topic of your own.
Read More