Uncategorized
Win a Breaking Bad Hoodie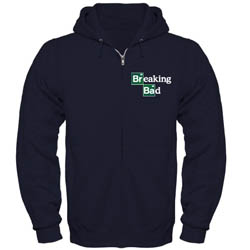 Want to dress like Jesse (or at least come close)? Here's your chance to be the proud owner of a Breaking Bad zip-up hoodie. Tell us: What's your favorite moment in Season 2?
We'll randomly pick a winner from the comments below and award a sweatshirt.
This is our last hoodie giveaway, so be sure to check the Breaking Bad blog next week for the winner.
NOTE – A winner has been selected for the final hoodie giveaway: Dansworth.
Winning Entry: "My favorite moment was in "Phoenix" when the baby was crying in the middle of the night and Walter takes care of it. He's rocking the baby and then shows the baby the money under the insulation by playing peek-a-boo with it. It was a sentimental and touching moment, putting the baby at ease for the short-term as well as the long-term."
Question: What's the best advice Walt gets in Season 2?
Winner: R.W.: "Whats the best advice Walt gets in Season 2? When Walt has his sit down with Gus at the chicken shop. Gus tells Walt that "You cannot trust a junkie," or something to that effect. No exactly advice, but Gus might be inferring that Walt needs to lose Jesse, because Jesse is a junkie."
Read More