Press
Breaking Bad Shines During TCA Press Tour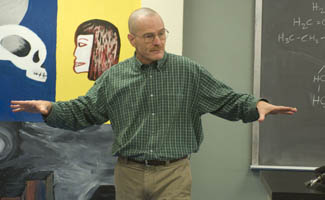 The Television Critics Association press tour — where journalists from around the world descend upon Los Angeles to get a sneak peek at networks' upcoming offerings — kicked off this week with an AMC-sponsored cocktail party. For Breaking Bad, this was an opportunity for critics to get a few hints about Season 3, and of course shower one of their favorite shows with praise.
San Francisco Chronicle critic Tim Goodman, after hailing Bryan Cranston ("with hipster highlights in his hair, looking nothing like Walt White,") and Anna Gunn for their fortitude with the critics, revealed some details from his conversation with creator Vince Gilligan, who "told a great story — that the writers embellished — about how the scene with the head on the tortoise came about. And how it went from brilliant to genius in one easy step. 'It's Breaking Bad. Of course we had to blow it up.'" Moving on to the third season, Gilligan teased, "Some crazy s–t happens."
iF Magazine spent some time with Bryan Cranston, who talked about his role in George Lucas' World War II drama Red Tails, but also spoke to his Breaking Bad character. Speaking to the audience's ability to relate to Walt in the upcoming season, Cranston said, "The most important thing to me is that they see a story unfolding that is honest. Whether or not they agree with what this character [Walt] is doing is not important. What's important is that they understand why this character is doing this, that they believe the set of circumstances that are presented and that it's truthful and we see his humanity."
The press tour will culminate with the TCA Awards on Sat. Aug. 1, for which Breaking Bad has received two nominations.
Read More