Talk Forum and Comments – What You're Saying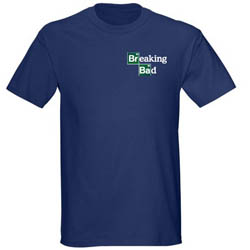 AMCtv.com awards the Talk forum commenters quoted in our weekly "What You're Saying" post with prizes like a Breaking Bad t-shirt or a Breaking Bad poster.
Fans this week conjured fanciful scenarios about how Walt will be discovered, discussed Vince Gilligan's musical inspirations and received Emmy congratulations from a special Season 2 insider.
"Walt's secret will be discovered by the IRS Criminal Investigation Division after receiving a suspicious transaction report by the hospital's bank as to the large cash payment for his hospital bill. IRS will hook up with DEA through a task force, one of whose members is a DEA Special Agent. This agent remembers the name on the canister that he deposited $5 dollars into and then contacts Hank, who then goes beyond suspicious." — repugnant
"I kept cringing every time Walt moved the money because it was always some place where Skyler might stumble on it and start using it for her own personal piggy bank. I could see her helping out with the baby and doing some laundry and finding it in the laundry room." — Zombiehead
"I would guess Vince is very influenced and inspiried by music when plotting this show. In another thread, I mentioned hearing Greg Allman's "Midnight Rider" and how it made me picture Jesse (or it could be Walt or another character), running from the law or a threat, with that song playing in the background. 'Love Reign O'er Me' from [The Who's] Quadrophenia would work well in that kind of situation, too." — rockmama
"I sure hope Aaron Paul wins this Emmy. 'Peekaboo' was a great episode. He interacted really well with my twin boys, who played the part of Spooge's kid. They had a lot of fun working with him, and we would love to see him win!" — TwinMommy
Log onto the Talk forum to join in any of these conversations or start a Breaking Bad topic of your own.
Read More