Awards
Breaking Bad Lands Five Emmy Nominations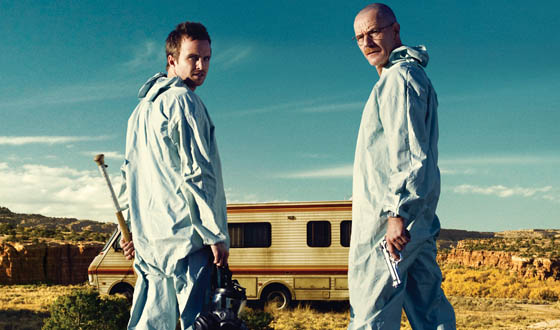 The Academy of Television Arts & Sciences announced today their nominees for the 61st Primetime Emmy Awards, and Breaking Bad received five nominations in the Best Drama, Outstanding Lead Actor, Outstanding Supporting Actor, Outstanding Cinematography and Outstanding Editing categories.
In the Outstanding Drama category, Breaking Bad shares a nomination with HBO's Big Love, FX's Damages, Showtime's Dexter, Fox's House, ABC's Lost and AMC's own Mad Men (click here for more info).
Returning champion Bryan Cranston (click here to read an exclusive interview) is once again nominated in the Outstanding Lead Actor Category, sharing a nomination with Mad Men's Jon Hamm. The two AMC leads will be up against heavies like Dexter's Michael C. Hall, House's Hugh Laurie, In Treatment's Gabriel Byrne and The Mentalist's Simon Baker.
Aaron Paul (click here to read an exclusive interview)
received his first-ever awards nomination for his portrayal of Jesse
Pinkman. He'll be up against John Slattery (nominated for the second
time in a row for his work on Mad Men), Boston Legal's Christian Clemenson and William Shatner, Lost's Michael Emerson and Damages' William Hurt.
Rounding out the nominations, Director of Photography Michael Slovis (click here to read an exclusive interview)
received a nod in the Outstanding Cinematography category for his work
on Episode 13 "ABQ," and last year's Emmy-winner Lynne Willingham (click here to read an interview) received a follow-up nomination in the Outstanding Single-Camera Picture Editing category.
The awards ceremony will be held on Sun., Sep. 13 in Los Angeles and broadcast on CBS.
Read More