Press
Critics Make Last-Minute Push for Breaking Bad Emmy Noms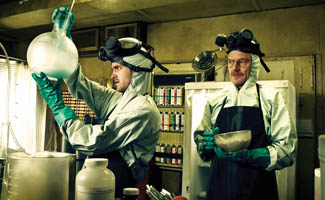 Tomorrow morning the Academy of Television Arts & Sciences will announce their nominees for the 61st Primetime Emmy Awards. But before they do, the critics are weighing in with some last-minute predictions — and not surprisingly, Breaking Bad is on everyone's mind.
The San Francisco Chronicle's Tim Goodman writes that "in a critic's perfect world," Vince Gilligan's character study should be given an Outstanding Drama nomination, citing Breaking Bad as "in the upper echelon of all television. Audaciously great, wildly ambitious." Goodman goes on to recommend Bryan Cranston for a follow-up Emmy, praising his "unbelievably great work…on a series that miraculously got a lot greater." Rounding out Goodman's predictions is Anna Gunn for Outstanding Lead Actress, for which he notes her "unbelievable nuance rising to ever-broader levels by season's end."
Not to be outdone, The Fort-Worth Star Telegram, too, calls out Breaking Bad and its lead Bryan Cranston to bring home nominations. For the former Robert Philpot writes that Breaking Bad "had a knockout second season (the first or second episode alone could wipe most other shows off the map). " Turning his attentions to Outstanding Lead Actor, Philpot praises Cranston's "career-redefining performance as a dying schoolteacher who turns to making crystal meth as a way of supporting his unaware family in Breaking Bad; he was even better in Season Two, and he'll be back."
Will the critics be proven right, or will they find that Breaking Bad has performed even better than expected? Find out tomorrow on AMCtv.com.
Read More