Talk Forum – What You're Saying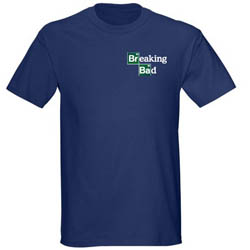 AMCtv.com awards its Talk forum commenters quoted in our weekly "What You're Saying" post with prizes like a Breaking Bad baseball hat or a Breaking Bad t-shirt (limit one per person).
Some of the questions that had Breaking Bad fans talking this week: Does Walt really need to keep cooking, and how much does he need Skyler in his life? The debate also continues over Donald, and whether he intentionally caused the season-ending plane crash.
• "I think Walt is addicted to the allure of the 'Easy Money'. Let's face it, there are some hoops to jump through, but Walt is a smart guy and provided he can keep Jesse in line, he has a solid business partner [in] Gus." — R.W.
• "They are going to have to create a reason for Walt to continue cooking. Because right now, it doesn't seem like there would be any reason to continue down that road." — silent
• "I think it would be great for the plot of season 3 if Walt and Skyler stay separated. bUT I think Ted (the character not the actor) is a putz, and Skyler and him should only get together if it gives Walt incentive to kill him and get him off the show." — Hank Jr.
• "I'm just wondering if Walt and Skyler should be together in Season 3. Maybe it's more realistic for them to be living apart! They would still have plenty of contact as they have two children and maybe Walt eventually comes to Skyler's rescue as she becomes more involved in the money issues at her work. This would certainly free Walt up to become more involved and to come to grips with his criminal side." — Nimrod1313
• "The collision avoidance system and the ATC would be two of the three known redundant systems, the third being the pilot's vision. There may even be another that we don't know of here… it was mentioned that such an accident has only happened once in aviation history. I can't quite swallow that it was just an accident. I think there was more going on there than we know of yet." — tpkelly72
Log onto the Talk forum to join in any of these conversations or start a Breaking Bad topic of your own.
Read More