Uncategorized
Q&A – Aaron Paul (Jesse Pinkman)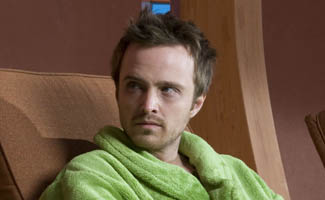 The actor ponders whether Jesse has hit rock bottom, reflects on Season 2's more domesticated moments and relates the inherent danger of interacting with other cast members in AMCtv.com's exclusive interview.
Q: You played a heroin addict in the movie Wasted. Was that helpful in preparing you for this season of Breaking Bad?
A: Yeah, Wasted was about an epidemic that happened in Plano, Texas. And they set us up then with actual users who were still using, and we got to ask them any question we could think of: I asked if there was anything they could compare the feeling to, what it tastes like; what do you do the first time you do it? I've never been around that kind of drug. Living in Los Angeles you run into other sketchy things, but heroin is so dark and intense and very specific.
Q: Jesse has been depicted throughout the show as an addict, but at least a functioning one. Do you think by the end of Season 2 he's hit bottom?
A: He was definitely a functioning drug user. But in Season 2, I think Vince and the writers really show what drugs do to the human body and the human soul — it completely destroys them. It really seems like Jesse has hit bottom, but you never know [Laughs]. In my own reality, I think that would absolutely be rock bottom. Reading the season finale, I was thinking "Oh my God, Jesse is going to off himself. He can't survive any more." But who knows what the writers will come up with next season. Sadly, the statistic with heroin addicts is that 1 out of 1,000 that becomes sober stays sober. This is his livelihood; this is what he knows. I think that inevitably the world is going to draw him back in.
Q: Jesse also gets to have some light moments in Season 2 — cooking Jane breakfast, for example. Was that a welcome contrast?
A: It's great to be able to play the crazy drug-addict kid — it's fun to portray something that you're absolutely not. It's why I got into this business. But man, it was nice to have that diversity this season. I'm glad they're showing the kinder side of Jesse. And working opposite Krysten Ritter, who is a wonderful actress — I'm sad to see her go, but someone had to die.
Q: Thankfully not you!
A: [Laughs] Thankfully not me.
Q: Last season you got a scene with Anna Gunn (Skyler). This season you got a scene with Dean Norris (Hank) —
A: I did! It was amazing. I so enjoy just talking to him and being around him. In the episode where they actually come face to face, and Hank says, "Jesse Pinkman," and they lock eyes? I was like "Yesss!" I knew that Jesse was probably going to be meeting Hank at some point, but I didn't think it would be so early. I rarely get to work with anybody other than Bryan and the guest stars. So when it happens you're like, "Why are these characters in the same room together? Something has gotta be going wrong." [Laughs]
Q: RJ Mitte (Walter Jr.) tells us you became quite the go-karting aficionado during off-hours this season…
A: Yes! Bryan rented out the go-kart track nearby and he got pizza for the entire cast and crew and we were there for hours and hours racing against each other. He completely got me addicted — the track was right near this place that I bought out there, and I'm like, "Oh my God this is genius! Anyone wanna go race after work?" By the way, can I say something?
Q: Of course.
A: Michael Slovis, our wonderful DP, is one of the most beautiful people I've ever met in my life. Michael, I love you so much. We will see you back in Season 3! I always joke around with him, like, "You better be coming back next season." But it's hard for him because he doesn't get to see his family. We need to hassle him. If you could put that little quote in there, that'd be great — it's all about peer pressure these days.
Q: Having played a druggie, you know that all too well, right?
A: Exactly. [Laughs] I know this. I know this.
Check back Thursday for an interview with Breaking Bad's location manager, Scott Clark.
Read More