Uncategorized
Win a Breaking Bad Hoodie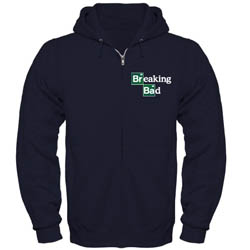 Want to dress like Jesse (or at least come close)? Here's your chance to be the proud owner of a Breaking Bad zip-up hoodie. Tell us: Skyler says that Walter Jr. should get a job. What kind of job do you think he should get?
We'll randomly pick a winner from the comments below and award a sweatshirt.
We're giving away a hoodie every week, so be sure to check the Breaking Bad blog for this week's winner and next week's question.
Look after the jump to see last week's winner.
Question: Who do you think will die next?
Winner: weeya: "Jane will die next. She will cause major drama between Walt, Gus and Jesse, and will be marked as someone who needs to be taken out, but will take her own life accidently by overdosing before others can take her out. Her dad freaks out and blames Jesse for the whole situation."
Read More