Talk Forum – What You're Saying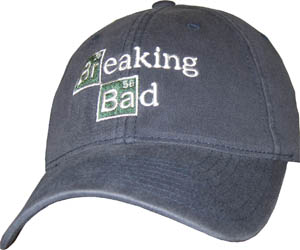 Throughout Breaking Bad Season 2, AMCtv.com will award Talk forum commenters quoted in our weekly "What You're Saying" post with prizes like a Breaking Bad baseball hat or a Breaking Bad poster (limit one per person).
Why did Walt pound the towel dispenser in "4 Days Out"? How will his cancer remission affect the trajectory of the show? And can he get back to a "normal" life now? Those were just some of the topics discussed in this week's forums.
• "When Walt looks at himself in the reflection, he sees who he has to be again — the man we met in the pilot. I think he likes Heisenberg more than he likes Walter White, and the remission of his cancer means that Heisenberg has to go. Or does he?" — JPinkerton
• "I think Walt is feeling some pains of consciousness. That is why he was beating the towel dispenser. Remember, earlier in the show he was starting to confess all he had been doing wrong — lying, etc. He did all this stuff to his family and now he is in remission." — bakersdozen
• "Remission! you knew it would have to happen, how else would this all keep going …but now what?" — serenity
• "I politely disagree that the good medical news takes away the driving force of the show. That was the instigator that got the story going. This shows the confidence of the writers that where the show goes from here will be powered by the characters and the story." — starscm
• "I took Walt's punching of the towel dispenser as an indication of total frustration. He realizes how everything he's been touching has led to setbacks and life-threatening situations. He also knows that blaming Jesse for everything is lame and that he (Walt) is as much to blame for their continuing screw-ups." — lala10
• "With Walt's tumor in remission, this changes everything. He can still DIE in any of the few episodes, or he makes season 3 very, VERY interesting." — KennyD
• "My prediction is that Walt is going to try to get out of the meth business, but unfortunately he's in too deep to get out. He's got too many people (mainly Saul and his 'associates') involved. He's gotten himself in way over his head and is going to have a hard time resuming a 'normal' life." — Tchefuncte Tiger
Log onto the Talk forum to join in any of these conversations, discuss Sunday's all-new episode or start a Breaking Bad topic of your own.
Read More