Talk Forum – What You're Saying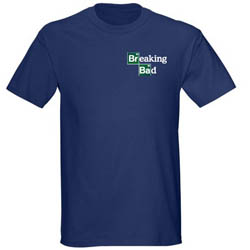 Throughout Breaking Bad Season 2, AMCtv.com will award Talk forum commenters quoted in our weekly "What You're Saying" post with prizes like a Breaking Bad t-shirt or a Breaking Bad baseball hat (limit one per person).
The talk forum this week is wondering if Hank is closing in on Walt's secret identity, and debating whether or not Jane will be Jesse's downfall.
• "You know at some point Hank is going to figure it out. The real question is, will Hank sell out his brother-in-law, warn him or get in on the take?" — zia
• "This was not the first time that Walt seemed tempted to spill his secret to Hank. They seem to be leading up to Hank figuring it all out. His expression while looking at the phony fall guy told me that he's not buying it. These guys all write volumes with their expressions." — tpkelly72
• "I don't trust Jane. Jesse needs some kindness and love in his life, but when she flipped him that 18 months sober chip, something didn't add up. I could be wrong and she could be his angel, but….naaaah." — neworleansdude
• "Jane… I hope she's good for Jesse, but you just gotta know that she's going to be someone's pawn in this game and will be forced to screw him over." — Bald 50
• "Bob Odenkirk as the 'criminal' lawyer? Awesome. After how heavy things were for the first 7 episodes this season it was nice to have a bit of silliness, yet it is very real. If you're gonna sling heavy you should have good (and that word's open to interpretation) legal representation." — neworleansdude
• "As much as I love this Saul character embedded in the story line, let's not forget what happens to greedy/sleazy characters on this show. They always seem to get their own comeuppance. After all he was begging for his life in Spanish. The cartels may have their own bone to pick with him." — JPB2
Log onto the Talk forum to join in any of these conversations, discuss Sunday's all-new episode or start a Breaking Bad topic of your own.
Read More