Talk Forum – What You're Saying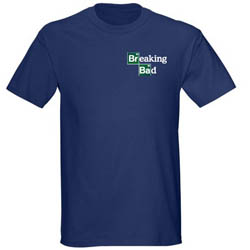 Throughout Breaking Bad Season 2, AMCtv.com will award Talk forum commenters quoted in our weekly "What You're Saying" post with prizes like a Breaking Bad t-shirt or a Breaking Bad baseball hat (limit one per person).
Breaking Bad fans wondered this week what will become of Jesse now that his drug habit has taken a dangerous turn, and speculated over what it could mean for his relationship with Walt.
• "Jesse breaks my heart in this episode. He's really a lost soul now. He doesn't want to go, either: He's scared to take the needle, but Jane talks him into it. Was it worth it?" — DRKellogg
• "I thought they were trying to make Jesse into the more likable character, turning it around from the first season. After this episode, I think any chance of that went down the drain." — ARobot
• "Walt might let Jesse go, but who would we root for? We all see even the honest are dishonest. We see Walt becoming his alter ego Heisenberg. Perhaps he can marry the two personalities." — boop
• "I believe Walt's transformation to the dark side is complete and he needs to tie up his loose ends, Jesse and Jane, before things get more out of hand." — Scematik
• "I'm sensing the end is near for Jesse I'm afraid his drug fueled romance with Jane is going to be more lethal than Walt's cancer." — Werner K.
• "I'm getting nervous. I really don't think I'd have the heart to continue watching the show if they killed off Jesse. He and Walt started the business together and I've grown attached to them both equally." — easilyjaded
• "As soon as I saw the kid circling Combo I knew he was bad news. A nine year old committing premeditated murder in the USA (Albuquerque, I assume) should seem more shocking." — Soko
Log onto the Talk forum to join in any of these conversations, discuss Sunday's all-new episode or start a Breaking Bad topic of your own.
Read More