Uncategorized
Q&A – RJ Mitte (Walter Jr.)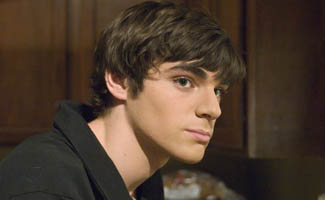 The actor discusses learning how to drive (with one foot), decorating Walter Jr.'s bedroom and turning to the experts for help with his chemistry homework in AMCtv.com's exclusive interview.
Q: We hear you celebrated your 16th birthday on set. What was that like?
A: It was fun. I had a party and I invited the cast and a bunch of guys to it, and we had a great time. I got a new car. That's one of the reasons I'm ready to get back to Albuquerque — I left my car there. It's a Honda Ridgeline, and I'm missing it.
Q: Did you have as much trouble as Walter Jr. learning how to drive?
A: No, because I've been driving since I was 11. One time I semi-wrecked my Uncle's truck: He told me to back it up into a ditch, but my foot slipped and I gunned it a little too much. But now I use one foot, and I do not run into stuff — at least I try not to.
Q: Walter Jr. gives himself a nickname this season. Any idea where "Flynn" came from?
A: I know it was an old movie star — Errol Flynn. It took me a while to figure out where it came from though. I asked Vince, "Flynn? Out of all the nicknames?" And he's like "Well, that's why I picked it." With Walter Jr., you don't see too much of his life. You hear a lot about it, and you question a lot about it, but you don't really see much. I'd like to see where Walter Jr. goes when he goes out. Is he really going to Louis's, or does he go out to some rave in the desert? I think of what ifs — what would happen if he went to this place or did that? I'm still working on it. There's probably some stuff going on at school that his dad knows nothing about.
Q: Well, Walt knows all about the tequila…
A: Yeah! That was fun, except it was a long day. You don't realize it, but that tube they ran down my back was so cold and big. It ran from my shirt, down my neck, down my pants to an air hose that's shooting up cold fake vomit. It was lovely. The first couple of times, they didn't know how much pressure they should use, so it was shooting up in my nose. So I'd sneeze and all this corn came out. Where did Walter Jr. eat all that corn? I couldn't figure that out, because you'll notice every meal it's always bacon and eggs, and sometimes pancakes.
Q: Last year you took up ballroom dancing classes in your spare time. Did you continue them this season?
A: Not as much. I actually went to a homecoming with a friend while I was out there, so the ballroom dancing paid off. That was a wise choice. I also like to go running in the mountains, which is a big difference from Walter Jr. I feel bad for people in wheelchairs and people who have to use crutches. I hate being immobile. That's one of my biggest fears, to be paralyzed.
Q: Bryan Cranston has said he suspects you're attracting teenage girls to the show. Have you gotten any love letters?
RJ: I have. I won't name names. A lot of the letters will say, "Will you go out with my daughter?" I'm always really polite — I'll say, "I'm sorry but I'm really busy. Thanks for the offer, but I can't."
Q: You're a big fan of paintball. Have you asked the writers for a scene where Hank takes Walter Jr. shooting?
A: Yes! I've been trying. If you notice in my room on the show, I have some paintball stuff in there. One of my walls has a big target with the paint splatter on it, and I have paintball cartridges in the room too.
Q: You do schoolwork on set. Do you take chemistry?
A: I am actually in chemistry. I'm not into math, though, and this is way too much like math. It's a pain to remember all the chemical compounds, but that's what's so great about working on the show: When I need help with my chemistry I'll go to Bryan or whoever is closest to me and they'll go, "Oh! This is the problem!"
Q: Who's the best chemist?
A: There's Bryan, because he has the most recent training (I wonder why). Jimmy, our Assitant Director is also pretty good at chemistry. Usually I'll go knock on his trailer and say, "Jimmy, what's this?"
Q: Do you think Walter Jr. will get into chemistry at some point?
A: There's a good chance. He might very well turn into the new Heisenberg!
Be sure to also check out the interview with the actor who plays Walter Jr.'s Uncle Hank: Dean Norris.
Read More