Uncategorized
Q&A – Jessica Hecht (Gretchen)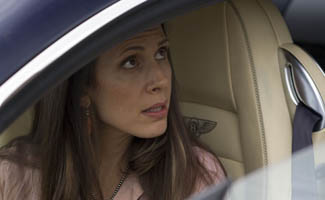 The actress discusses kissing Bryan Cranston in front of her husband, devising her own get-rich-quick scheme and learning to love a Bentley in AMCtv.com's exclusive interview.
Q: Both you and Vince Gilligan studied at NYU. Did you know each other?
A: We both went to NYU, and I think he was even in my year, but we never saw each other. The drama school and the film school didn't mix. But we have all these points of reference — although he didn't really love it there, and I loved it. But Breaking Bad came up because my husband, [Breaking Bad director] Adam [Bernstein] was supposed to do a pilot for Vince years ago, and it never came to pass. So when this came up I was like "Sign me up too!"
Q: Adam Bernstein actually directed the episode in Season 1 where you kiss Bryan in a flashback. Was that awkward?
A: You know, Adam and I had never worked together before that episode. And so when it turned out Adam was directing, I was like, "Oh no I have to kiss Bryan!" But it was so easy — my husband was so far away. Usually he stays close to the actors but for this he stayed back, which was sweet of him. And Bryan was so nuts that he was doing all these things to try to comfort me. Everyone was nervous and excited and it just was deliciously funny.
Q: You had to display some chemistry wherewithal in that scene. Are you good at the subject?
A: I know some. My father was a physicist, and Adam's father was a physicist too, so he's really good at science. He and Bryan were filling us in on a couple things, and I really felt like the odd man out. But since I grew up around a lot of science, I knew to just nod, and nod, and nod. It was great. I always wanted to be good at science, it's just that my dad was so good, and Adam is so good, it just immediately pushes that button like, "Oh yeah, sure."
Q: What's it like have Bryan Cranston curse at you?
A: Oh man, he's a good actor. But it was easy because Vince Gilligan told us exactly what went down between the characters off screen: We were very much in love and we were to get married. And he came home and met my family, and I come from this really successful, wealthy family, and that knocks him on his side. He couldn't deal with this inferiority he felt — this lack of connection to privilege. It made him terrified, and he literally just left me, and I was devastated. Walt is fighting his way out of going back to that emotional place, so he says, "F— you."
Q: You got to drive a Bentley this season. Are you a fan of the car now?
A: Oh my God. I don't mean to in any way impugn the makers of Bentley, but that car is nuts. When I do drive, I drive a Toyota Prius. So driving around the streets of Albuquerque in a Bentley made me feel so fake-a-rooney. All the crew members were teasing me, saying I looked like I was born to drive it. But it's kind of delicious to pretend to be somebody that comes from that wealth. That said, the car is very confusing, because the buttons aren't very clearly marked. Putting the windows down was mysterious for me.
Q: Gretchen may come from wealth, but she and Elliott make millions off of Gray Matter as well. What would your get-rich-quick scheme be?
A: I think that if I had some way to make people feel thin for the day, I'd do that. I just saw this woman in the gym who said, "I just never lost that baby weight." And it was so sad to think about how badly everybody feels about themselves. It would be so great to feel good about your body, if only for the day.
Q: Gretchen is involved in a love triangle, so are your characters in Friends and Sideways. You seem to gravitate towards those roles…
A: Yeah I guess so! I think I usually play the woman that after the person tries to go for some extraordinary feat of romantic accomplishment, they happily wind up with me. I do feel like I'm a part of these triangles with some really interesting people. I think it's because despite my efforts I look like a hippie, so I get put into these plots where there's a romantic thing going on, but there's a possibility for something unconventional to happen. God, that's so revealing!
Read More