Video
iPhone Exclusive – "The Tortoise Scene" Documentary Video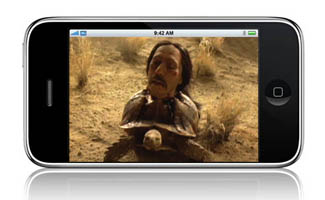 Attention all iPhone owners! Watch an exclusive Inside Breaking Bad video using AMC's new iPhone app. Go behind the scenes of Season 2, Episode 7, where consulting producer John Shiban explains the Mexican drug cartel's calling card, Vince Gilligan describes the meticulous detail that goes into putting a decapitated head on a live tortoise — and then blowing it up — and Dean Norris relates how the finished product is quintessentially Breaking Bad.
This special behind-the-scenes documentary is available only through AMC's free app, which you can download here. Also available through the app are video sneak peeks, cast interviews and behind-the-scenes exclusives of the series (and other AMC shows like Mad Men, The Prisoner and AMC Storymakers).
Download the app for your iPhone today.
Click here to view the app at the iTunes store.
Read More