Uncategorized
Hank's Blog – We Got a Baby, You Get a Schraderbrau Shirt!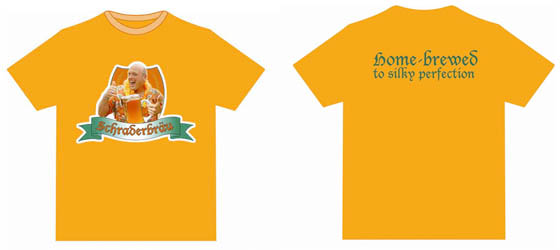 And the baby has landed! That's right guys, the parasite that's taken over my sister-in-law for the last, oh, twelve years or so has finally been born! She's got all her fingers and toes, and she's damn cute — I guess she got all of Sky's genes. Ha! Everyone is happy as hell, which is a nice change for the family. My wife is so gaga over that little girl, I think she might pop her in a sack and steal her. I'm kidding. She'd be good for a few hours, but taking care of a poop machine, well, it's not exactly in her wheelhouse.
So because things weren't exciting enough, it looks like my brother-in-law will be going in for surgery soon to take care of this tumor he's still got. Never a dull moment here. He's getting a chunk taken out, which I'm told is called a lobectomy. (My spell check wants me to change that word to "lobotomy." Nice! But no… his brain will remain intact. Although he's got so many smarts, he could probably afford to lose some.)
Anyway, this surgery is going to cost somewhere along the line of the gross national product of Luxembourg. Walt'll be buying this doctor guy several houses. I sure got in the wrong business. So, my genius nephew has set up a website, SaveWalterWhite.com, where people can donate money for the cause.
Surgery is expensive, and let's not forget, my sister-in-law just popped out an entire person. You know that saying that boats are just a hole in the ocean you throw money into? Well, babies are like the people version of a boat. Except they're a hole in… I don't know… that overly priced Pottery Barn crib with the designer sheets you just had to have. The price of diapers alone, well, the mind boggles. So I'm asking, please, take a look at the site and spread it around to your friends. Put it on your Facebook or your Tweeter or whatever is the new slacker thing this week. Hell, just take a moment to bask in the neon green glow of the screen. We'd really love for my niece to know her dad, and
this surgery could be the ticket.
And now, I'm gonna sweeten the deal: I remember how you guys went batshit crazy over those Schraderbrau shirts (and who can blame you?). So, if you go check out the site and then come back here and leave a comment on my blog, you'll be entered in another random drawing for a shirt. How about that? You can leave any kind of message here that you want. Messages to Walt, haiku… whatever floats your boat.
So dig deep! Think of it as karma. Or whatever kumbaya pay-it-forward hoodoo appeals to you. He's a good guy, and he deserves to see his little girl grow up.
Read More