Uncategorized
Q&A – Giancarlo Esposito (Gus Fring)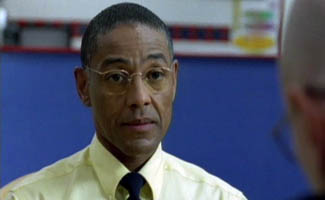 The star of Do the Right Thing, School Daze and Homicide: Life on the Streets discusses Breaking Bad's racial politics and his vision for fast food's future in AMCtv.com's exclusive interview.
Q: You starred in Homicide, playing a Baltimore FBI agent dealing with the city's drug problem. How does Breaking Bad compare?
A: I enjoyed Homicide a great deal, so when this opportunity came up, I said this is really the flip side of the coin: Gus is an interesting character, but Breaking Bad is also a very different show. Part of my remorse about shooting in Baltimore was that I had to be shooting in the court system. And within those walls were all black people — the youth of that generation was lost to drugs. Breaking Bad doesn't depict drugs in a racial way. There are a lot of Hispanics, but still it's a different culture of people. It does share to a certain extent what The Wire and Homicide did. But it's funnier. Out of this horrible situation you get some comedy, and that's what I love the most.
Q: In your career you've chosen roles that tackle racial politics very directly. Do you see that element in Breaking Bad as well?
A: I think it does get picked up, and I'm hoping it gets picked up more. I'm hoping that I am graced with the opportunity to do more, because I think it will come in. What I love about Gus is, although he's a Spanish guy, Gustavo, he is very wise and is already referred to much like our lead character. So I love that analogy. Although he's peddling and has all these businesses, hopefully we'll be able to develop this guy where you'll see a human being who sees an opportunity, and seizes it because of the reward you could get from it. I'd like to see the show touch on the idea of these two characters having a conversation: "Why do you do this? You're hurting your own people." I think it's going to come up — it's going to turn into a moral, ethical conversation, and I'd be interested to see what Gus's answers would be.
Q: You played a drug dealer in Fresh. How does Gus compare to that character?
A: I never like to refer back to anything I've done when I'm working on a character, even if that character has the same occupation. So I feel like these are two very different guys. I think Gus is much wiser than Esteban. Esteban has some passion — he's obviously on the same track, but he's much more ethnic and much less blended into the American mosaic. Gus is blended in there — he's not trying to hide from anyone. He's legitimized himself, which is the biggest difference.
Q: You starred in an episode of Ghost Whisperer with Aaron Paul.
A: We did — we kicked each others' butts in the alley in a backlot of Universal one night, and I will never ever forget it. When I saw him again we gave each other the biggest hug and he said, "Man, welcome!" It's kind of a neat thing when you see an actor you get along with, it's this loving moment where you know you're safe. I believe acting is very physical, and when you have to fight or do those kinds of things, it takes a lot of respect not to allow yourself to go off and hurt yourself or someone else. And we learned a lot about each other that night — he had a miss on me where he hit me with a two-by-four and he actually got me pretty square across my back. I had a miss on him, and you learn to respect each other. I'm hoping I have more to do with him.
Q: Gus owns a chain of fried chicken restaurants. What kind of fast food chain would you want to own?
A: I'm not too into fast food, but you know if I was, it would be chicken. [Laughs]. It would seriously be Los Pollos Hermanos. I love the smell of fried chicken. I think fast food places will become in our future like what McDonald's tried to do with the playground — they'll be like amusement parks. I predict it! [laughs]. They'll have little rides for the kids and the adults, and you wouldn't just go to have a meal. You'd spend a few hours there playing beforehand, eating, playing some more. I think Gus's dream and vision would be to create the fast food extravaganza — not just an eating experience, but a pleasurable outing for the whole family. And I could totally get on board with that.
Read More