Video
Video – Episode 10 Sneak Peek, Inside Episode 9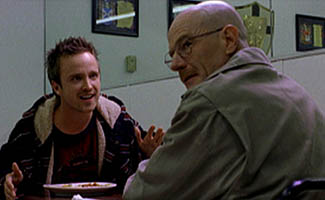 Find out what Walt's new cancer diagnosis means for his future prospects as a drug kingpin in this sneak peek of Episode 10, "Over," which airs Sun., May 10 at 10PM | 9C. This video is no longer available.
Then, go behind the scenes with Inside Breaking Bad for Episode 9, "4 Days Out," where Vince Gilligan discusses his heroes' brush with their own mortality and Aaron Paul describes blurring the lines between acting and surviving.
And don't forget that you can now watch this week's episode (or catch up on previous Season 2 episodes) in a matter of minutes with our video episode recaps.
Read More