Video
Video – Season 2 Finale Sneak Peek, Inside Episode 12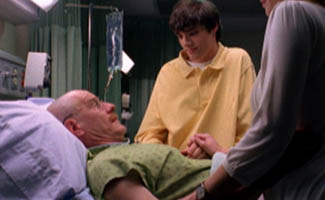 Watch as the Whites share a family moment before Walt's surgery, and a heavily medicated Walt lets slip a damning secret in this sneak peek of the Season 2 Finale, "ABQ," which airs Sun., May 31 at 10PM | 9C. This video is no longer available.
Then, go behind the scenes with Inside Breaking Bad for Episode 12, "Phoenix," where Anna Gunn talks about Skyler's last straw, and consulting producer John Shiban describes the love triangle among Jesse, Jane and Walt. Furthermore, Bryan Cranston relates the rationalization behind doing nothing.
And don't forget that you can now watch this week's show (or catch up on previous installments in Season 2) in a matter of minutes with our video episode recaps.
Read More