Talk Forum – What You're Saying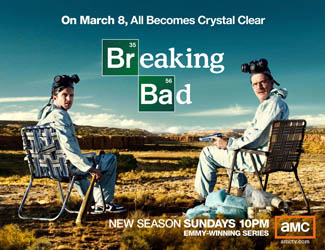 Throughout Breaking Bad Season 2, AMCtv.com will award Talk forum commenters quoted in our weekly "What You're Saying" post with prizes like a Breaking Bad poster or a Breaking Bad t-shirt (limit one per person).
Breaking Bad fans this week were reeling from visions of exploding tortoises and debating whether Skyler's new job will lead to an affair with her old boss.
• "That turtle bomb was a surprise! No matter what the reasons and politics involved with Hank being transffered, those cops he has to work with aren't laughing now are they?" — tuttle300
• "I was jacked to see Danny Trejo harassing the DEA with the Sky Mall catalog. Then came the turtle. At first, I was disappointed when I saw his head on that turtle. I then felt relieved as I thought Hank's new co-workers played a prank on him, laughing at him as he ran away for air. Then I needed a change of underwear after the head exploded." — tehbeermang
• "I think there was something more going on with Skyler and her old boss. Why else would he hire a 7 months pregnant (at least) woman on the spot for a supervisor job? Very interesting development there. And he's divorced — how convenient." — Pink63
• "I noticed a few shady things with the Skyler/former boss relationship. It seems to me from the way she fixed her hair before going into the office and the hesitation over putting up a photo with Walt in it at her desk that she and Ted had an affair in the past. We've seen an interesting change in Skyler since Season 1; originally she was this caring, devoted wife. We have seen the darker side of her in Season 2 with the smoking and now the possible past affair." — mirna
• "Maybe Skyler is planning for her future life after Walt. Her new boss and her probably had something awhile back and thought 'If only we weren't married.' Well, he no longer is married and she may be a widow real soon. She is still young and with a baby on the way. Skyler always seemed like a planner so I wouldn't put it past her." — RCH2288
• "Danny Trejo was a good move: He's a Great actor — too bad his part was so brief. Watching Hank struggle in his new post in El Paso was hilarious, he's trying so hard to maintain and try to fit in." — R.W.
Log onto the Talk forum to join in any of these conversations, discuss Sunday's all-new episode or start a Breaking Bad topic of your own.
Read More