Talk Forum – What You're Saying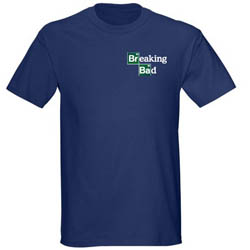 Throughout Breaking Bad Season 2, AMCtv.com will award Talk forum commenters quoted in our weekly "What You're Saying" post with prizes like a Breaking Bad t-shirt or a Breaking Bad hat (limit one per person).
The talk forum is speculating about Jesse's new landlady — Jane — and wondering if Hank will go after Jesse for a second round of interrogations.
• "That had to have pissed off Hank in a big way to be involved in that gunfight with Tuco and nearly getting killed (which he's still feeling aftershocks from), and Jesse simply walks out of the DEA Station unscathed. I think while Hank is doing double-duty, he's gonna have his
DEA co-workers watching Jesse" — bigfreakinaz
• "I think Hank knows or suspects more than is being demonstrated at this point. There would have been a lot of evidence at that shack where Tuco and Hank became acquainted to suggest that others were there." — jimanaz
• "Jane's clearly not the girl next door, but will she be okay with the fact that Jesse is a rising druglord? I definitely can see some sort of clash with Jane's father whenever this love connection blooms into something real. " — greentealeaves
• "Jesse is a good person, and with a little friendly guidance from this very HOT landlord, soon to be very HOT girlfriend, Jesse is going to be very divided where to spend his time. I mean, business or pleasure? Hmmmm." — noah
• "I believe Walter Sr. will become the next Tuco. He has already killed with his bare hands, and his chemistry. He needs his money and also feels that the rip-off by the scary woman and man is disrespect. It is not in Jesse to rise to the level of ruthlessness that is required to deal with these people. Walter will take the next step. I think this is foreshadowed by Hank talking about the Heisenberg urban myth." — Toozy
Log onto the Talk forum to join in any of these conversations, discuss Sunday's all-new episode or start a Breaking Bad topic of your own.
Read More