Talk Forum – What You're Saying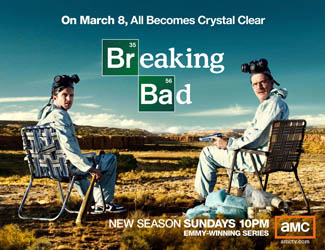 Throughout Breaking Bad Season 2, AMCtv.com will award Talk forum commenters quoted in our weekly "What You're Saying" post with prizes like a Breaking Bad poster or a Breaking Bad t-shirt (limit one per person).
Breaking Bad's fourth episode had fans praising Aaron Paul and pondering Walt's ever-changing family dynamic.
• "I think this may have been Aaron Paul's best performance yet. I truly felt for him when he lost his house and was forced to sleep in the RV wearing a gas mask. He was at rock bottom there." — James26
• "I loved how Jesse took back his RV and drove right through the gate — I was actually proud of him, the fictitious TV character that he is." — fluttergirl
• "In some ways, that was the scariest episode so far. Those of us who have been married know that at present, Skyler is more frightening to Walt than Tuco ever was." — Dew Flicky
• "Walt has been pre-empted out of the family, and they're definitely treating him that way. Skyler's constantly leaving, and Junior calling himself Flynn (actually not a bad idea considering where this is going — after his father is arrested for being the best meth cook in Albuquerque)." — jamm54
• "One of the side effects to smoking while pregnant is a premature birth, which increases the likelihood for cerebral palsy. So the questions is: Was Walt Jr born premature, and was this caused by Skyler smoking?" — robobret
Log onto the Talk forum to join in any of these conversations, discuss Sunday's all-new episode or start a Breaking Bad topic of your own.
Read More