Uncategorized
Q&A – Los Cuates de Sinaloa (Narcocorrido Band)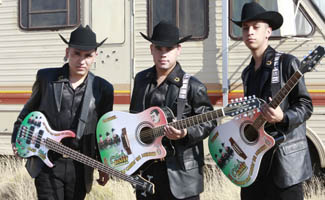 In this exclusive interview, singer Gabriel Berrelleza and manager José Juan Segura explain how narcocorridos praise drug traffickers without glorifying them, and why singing a ballad to "Heisenberg" is just another day at the office.
Q: What exactly is a narcocorrido?
JJS: A corrido is a musical story taken from real life. It can be about a tragic accident or praising a person. A lot of songs used to be about migration and smuggling. Narcocorridos are based on cases related to drug trafficking. A trafficker can become popular because people know he has a brain for business. A lot of people think narcocorridos are only ones who can challenge the government. To them, it's like an action picture. The one who wins in the end is the good guy. And for those people, the government is the bad guy.
Q: So these drug traffickers actually become folk heroes?
JJS: What happens is that the people in the cartels may be bad people doing bad things, but they also help people in the countryside, and give them what they don't get from the government. In the small ranches that they use for cultivation and packing, the capos make sure that people lack for nothing. So the people take care of them. For those people, there is no other option. The Mexican police are corrupt, they can't count on them for help.
Q: When you were approached to perform a narcocorrido about a fictional gringo drug boss, did you find the premise outrageous?
GB: We loved the idea of the "capo gringo." It was different, like nothing we've ever run across. But it's not impossible to imagine it could happen. It's a business, and business is all about staying ahead of the competition. Where there's a gap, someone will always come in from where you least expect it.
Q: Vince Gilligan co-wrote the lyrics to "Negro Y Azul." How did you go about setting them to music?
GB: Pepe Garza, a well-known composer, wrote the song for us. And he just treated it the same way we treat any of our other subjects. You look at the person, see what's unusual about him, look at the story and find a way to make a clever comment on it. In the case of the gringo they call Heisenberg, you report what people are saying about him. People know about the product, which seems magic, with its unusual blue color. He's mysterious, because no one has seen him, and no one knows his real name, and that makes him more powerful. But in the end, because he's disrespected the cartels, he is doomed. Like the song says, "That homie's dead, he just doesn't know it yet."
Q: Was it strange to sing a ballad about a fictional character?
GB: Actually, you're never singing from the point of view of the person you're singing about. Your perspective as a singer is always very much from the outside. You're like a witness, you observe what happens and notice the important details, and then comment on those. With all the things that the traffickers do, there are always a lot of people watching who know what's going on, but they would never admit what they know. The trick to the songs is to let people know the details, of who was where and what they did, but never to admit you were in fact present. So singing about the rumors circulating about this mystery gringo isn't much of a stretch.
Q: Narcocorridos have been accused of glorifying the drug trade. How do you respond to that?
GB: We don't encourage crime. There are a lot of corridos that have a message, warning the public about the harm that drugs can do. What we do is report the news. Drug traffickers are everywhere and we're just giving people information about who's on top, what they're doing, the trouble they get into. It's the nightly news set to music. We don't just sing those types of songs. We also do love songs, party songs. But the corridos pesados, the songs telling stories about drug traffickers, are the ones that are the most popular and the ones people talk about the most.
Q: Do you think Los Cuates could do a whole song cycle about the "gringo capo"?
GB: I don't see why not, if they asked us to. He just has to live long enough for more adventures, no?
Click here to watch Los Cuates de Sinaloa perform "Negro Y Azul."
Read More