Uncategorized
Q&A – Johan Renck (Episode 5 Director)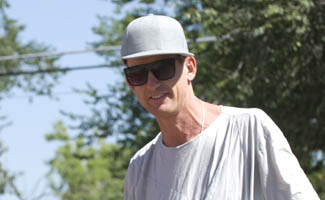 The director talks about filming a music a montage on his lunch breaks, the meaning of "Walt face" and the fun of attending his first all-American Sweet Sixteen party.
Q: You employ a lot of interesting camera techniques in this episode, like when Walt is in chemo and everything accelerates around him. What's the meaning of that?
A: Walt is in a vacuum, not aware of what is happening around him. When he's getting chemo, that's the one place where he's completely on his own with his own thoughts. Everywhere else — at home, with Jesse — he's always in this weird defensive position, having to make himself look tougher than he really is. But when he sits for a minute, things catch up with him, and he realizes the s___ he's actually in.
Q: Your background is in music, having gotten your start as a musician in Sweden. Was that helpful for the dope slinging montage later in the episode?
A: I began my career as a recording artist, and eventually I started directing my own music videos. I found that montage really important — it shakes everything up. But we didn't have much time for it: Basically, everyone else would go home and the producers would be like, "Here are a bunch of people to do another piece of the montage, you have 30 minutes." I like working in those conditions, though. People are standing around giving me eyes, like, "Ugh!" We ran a guerrilla crew on those, restricting it to lunch breaks.
Q: What's it like directing Bryan Cranston? How do you get him to produce those wonderful facial expressions?
A: Toward the end of filming, Bryan and I developed a mutual understanding: I would say, "Do this, do that," and then, "Just do 'Walt face.'" It's suppressed anger, suppressed frustration. When I say, "Do Walt face" to Bryan, he knows exactly what it means for a given scene.
Q: We see a whole other side to Hank this episode. What's going on with him?
A: Being a police officer in America is a tough job. You go to work everyday and you get used to what you see. It's like putting a frog in cold water and gradually bringing it to a boil: The frog doesn't realize when it's supposed to jump out. His job is having a bigger impact than Hank realizes. When you think about it, that's life: Perpetual firefighting. Hank tries to get rid of his guilt about Tuco by throwing that grill in the Rio Grande. Of course, that's not going to work. It doesn't matter how far it travels, Hank will still have to live with what happened.
Q: What went in to dressing up those two junkies who rob Skinny Pete?
A: Crystal meth is nasty in lots of ways — it's almost as low as sniffing glue. We wanted to create two people that you can get interested in: They have to be desperate, so we made sure they have every conceivable disease and skin condition imaginable.
Q: This was your first time directing a television show in the States. Were there any memorable firsts for you on set?
A: R.J. Mitte [Walter Jr.] had his Sweet Sixteen party while I was there. It was a hilarious party with live bands, lots of food and a new car. On set I had been wearing a pair of really rare top-shelf glow-in-the-dark Nike Dunks, and R.J. had said, "Oh I love those." I was like, "You can be jealous all you want, you are never going to see a pair of these!" But I actually managed to wrangle a similar pair, which I gave him for his birthday. He loved it.
Read More