Uncategorized
Hank's Blog – And the Schraderbrau Winners Are…

Wow, you guys really want some t-shirts, huh? I was pretty blown away by the response to my beer slogan post. I didn't realize how many of you were reading my ramblings (I mean urbane, sublimely-phrased musings). Better start watching what I say, right? Ha!
Thanks for all the interest. I know I'm nice to look at, but I'm still surprised how many of you all want my face emblazoned across your chest. I was especially happy to see so many ladies responding. Of course, the ladies never could resist that Schrader charm.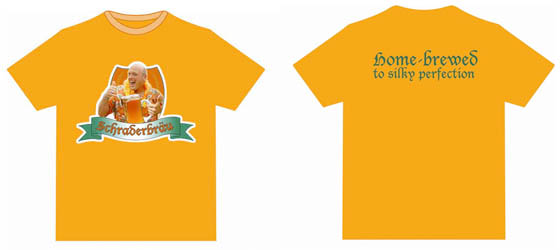 I've got some winners picked out through my random drawing. And remember: No hurt feelings. You all did a fine job. I appreciated all the shout-outs to the D.E.A. and my own illustrious track record. A lot of you went with the good 'ole beer goggle route, which I have to respect. Of course, a bunch of you seem to have forgotten it's my brother-in-law who's the chemistry genius, not me. He's a good guy, but it's Schraderbrau — not Whitebrau. But I digress — you all came up with some quality stuff. (And a few duds — let's be honest here. But points for effort!)
And now, without further delay, here are the winners (in no particular order):
digitalslavery: "Schraderbrau – So Fine, it will Blow your Mind."
StormusMaximus: "Schraderbrau – The Court Jester of Beers."
indiefan: "Schraderbrau – Makes dissolving your drug dealers in acid a real bloody mess."
jdough: "Schraderbrau-The Original Panty Dropper."
bhoehn: "Schraderbrau – Get a "Hank'erin for some good brew."
mrbill: "Schraderbrau – Can't even give it away."
Diane: "Hank is the man, man!"
Bill: "Schraderbrau – It's Better Then Meth!"
GonPostL: "Schraderbrau – Kills brain cells (but just the weak ones)."
zeeduv: "Schraderbrau – for the shark in you."
Come on down! (Does anybody else miss Bob Barker? I mean, what is with this whole Drew Carey guy? He's okay, I guess, but… I miss the man himself. Come on Bob, put down those unclaimed prizes and those Barker beauties and show us some love. Well, come to think of it… bring the Barker beauties with you.)
Wow, got a little carried away there. Okay, as for receiving your amazing prize (my face on your chest!), one of my D.E.A. subordinates will be contacting you shortly. Gotta keep those kids busy, you know.
Again, thanks for all the responses. The Hankster here was feeling the love. I raise my glass of Schraderbrau to you all!
Read More