Uncategorized
Hank's Blog – Win a Schraderbrau T-Shirt!

I don't think I've talked about this yet, but I am in the art of beer brewing. I don't want to overstate my skills here, but I brew a mean product. I'm working on this year's batch now, and despite some issues, I think it's gonna be a championship year for the Hankster. I gotta say, there's nothing like kicking back and enjoying a cold bottle of Schraderbrau — brewed to silky perfection!
I'd love to be able to give all of you a taste of this fine, fine beverage, but shipping beer opens up a whole mess of legal crap I don't want to get into. Permits and state regulations — it makes my head hurt. But, I got some sweet Schraderbrau t-shirts printed up (gotta build the brand). I'm thinking I can send a few of these out to some of you loyal commenters.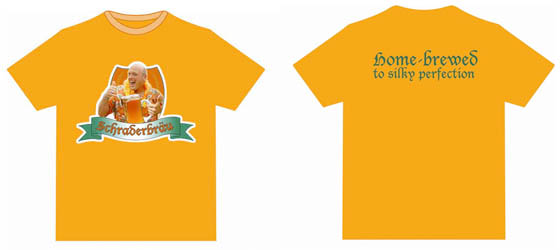 Let's make it a little interesting: Although Schraderbrau has a very kick-ass slogan now, I'm interested to see what some of you guys can come up with. Leave a slogan in the comments for my excellent home-brewed libation and you'll be entered to win a genuine Schraderbrau shirt.
And just so no one gets their feelings hurt if I don't pick their slogan — I'm gonna draw winners at random. I know how sensitive some people can get (that's what HR keeps telling me anyway). Good luck and no crying!
Read More