Video
Watch Episodes 1 and 2 Online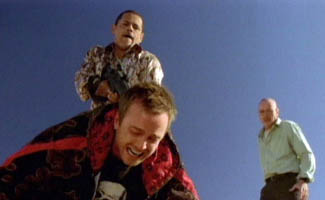 Are you feeling a little blue now that Tuco is out of the picture? Do you miss the days of bowie knives, junkyard beat-downs and bovine sharpshooting? Now you can relive all of Tuco's exciting antics in Episodes 1 and 2 for free online in full-screen HD. Take a refresher course on the events that kick off Season 2 (or get caught up if you're new to the show).
If you don't have time to see 1 and 2 in their entirety, or you need to get caught up on later episodes, you can view brief video recaps of each, then watch a sneak peek of Episode 5, "Breakage," which airs Sun., Apr. 5 at 10PM | 9C.
It's everything you'll need to get up to speed with Breaking Bad's second season.

Read More