Video
Video – Episode 8 Sneak Peek, Inside Episode 7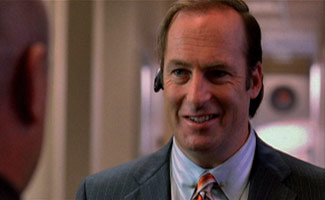 Meet shady attorney Saul Goodman, who chats with Hank about one of his clients in a sneak peek of Episode 8, "Better Call Saul," which airs Sun., Apr. 26 at 10PM | 9C. This video is no longer available.
Then, go behind the scenes with Inside Breaking Bad for Episode 7, "Negro Y Azul," where Aaron Paul describes the blooming romance between Jesse and Jane, and Vince Gilligan delves into the explosive consequences of a DEA promotion.
Want to sing along with Los Cuates de Sinaloa as they perform "Negro Y Azul"? We've got the narcocorrido music video right here for you to sing along to at your leisure.
And don't forget that you can also now watch this week's episode (or catch up on previous Season 2 episodes) in a matter of minutes with our video episode recaps.
Read More