Video
Video – Episode 7 Sneak Peek, Inside Episode 6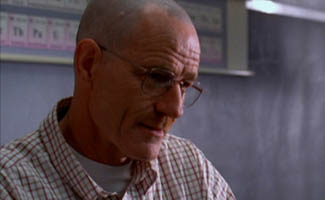 Class is back in session, but Walt isn't the same old Mr. White. Find out how he's changed in a sneak peek of Episode 7, "Negro Y Azul," which airs Sun., Apr. 19 at 10PM | 9C. This video is no longer available.
Then, go behind the scenes with Inside Breaking Bad for Episode 6, "Peekaboo," where director of photography Michael Slovis relates the pleasures in lighting a ramshackle house and Vince Gilligan describes Jesse's not quite happily-ever-after heroics.
To get another glimpse at next week's episode, check out this exclusive narcocorrido music video, "Negro Y Azul," written for the show and performed by Mexican band Los Cuates de Sinaloa.
And don't forget that you can also now watch this week's episode (or catch up on previous Season 2 episodes) in a matter of minutes with our video episode recaps.
Read More