Uncategorized
Q&A: Terry McDonough (Episode 3 Director)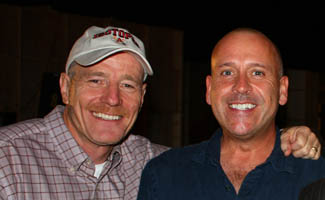 In his first gig as a director in the U.S., England-based Terry McDonough talks about Bryan Cranston's nude shenanigans and what it's like to get to choose from six different types of crap.
Q: What was it like to direct an episode of Breaking Bad?
A: It was the first time I'd ever worked in the U.S., so I was thinking, "My God, if all the jobs are like this in America, I'd be in heaven." And I'm in love with these characters — they're a bit wacky.
Q: How fun was it to shoot the scene where Bryan Cranston strips down?
A: Bryan quite enjoys taking his clothes off — always, whenever possible. When I yelled "Action!" Bryan was supposed to walk down the aisle and stop. Instead, he started taking items off the shelves. I figured he was doing some sort of method thing, so I thought, "All right," and we kept rolling. Then he picks up a can of coffee, turns around and yells, "Hey guys, coffee on special for 99 cents!"
Q: What's the meaning of the painting in Walt's hospital room?
A: Peter Gould, who wrote the episode, put the painting in the script and had it commissioned. It's a take on Winslow Homer, an American landscape painter born in 1836. The painting reflects Walt's position, and there's a nice ambiguity there: Is he rowing back to his family, or is he rowing farther away? Eventually you realize it's the latter — his family is watching him drift away. Walt is becoming a different man, colliding with vastly different aspects of life. Suddenly he's familiar with the drug fraternity. He's the nucleus of that world, even. But he can't become emotional about things — he just has to do what he thinks is best for his family. Otherwise he'd have to admit that he has f_____ up.
Q: The episode depicts a lot of solemn moments for Jesse and Walt — Jesse when he's calling his father, Walt when he's on the bus.
A: Jesse's scene depicts the total isolation of his character. The long, wide shot of the enormous corridor made the building seem huge in comparison. Think of the massive government control that exists to contain people like Jesse. On the path he has taken, you lose reality. Jesse has just come very close to getting locked up, but he's like the sparrow that flies into a glass pane, then picks himself up and flies into it again. For Walt, death is looming. The scene highlights that Walt doesn't have much time. During his secret visit to his house, it's like the Ghost of Christmas Past. Watching his wife and son, he gets a glimpse of what life would be like in that house without him. And here he is torturing them. What little time he has got left with them, they're killing themselves trying to find him. It was a scene for him to reflect on some of that.
Q: Dean Norris and Aaron Paul interact for the first time in this episode. What was it like to see that new relationship unfold?
A: It was a great dynamic. Jesse knows that Hank is Walt's brother-in-law. That back-story ignites what goes on between them. It's quite an incestuous setup, in a way: These characters barely know each other, and yet both are connected to Walt, the ticking time bomb. For varying reasons, nobody wants to lose this guy — especially if he's an Emmy winner! Not that Bryan ever mentions that…just three or four times a minute.
Q: What goes in to having a character crap in his wheelchair?
A: I met with Dennis Petersen, our special effects guy. He came up with six different types of crap. I decided I wanted it to look like it came out of a colostomy bag — I was going for realism. In the U.K., you wouldn't be able to show body waste on TV. It was actually quite gross, but Mark Margolis (Tio) was so fun to work with.
Read More