Talk Forum – What You're Saying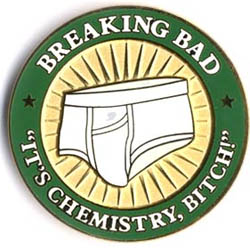 AMCtv.com awards its Talk forum commenters quoted in our weekly "What You're Saying" post with prizes like a Breaking Bad challenge coin or Breaking Bad test tubes (limit one per person).
The Season 2 premiere is almost here, and the fans can't wait — some are making predictions, and some are chatting on Hank Schrader's blog.
• "Walt will have to face the consequences of his production of such pure meth. It probably won't be close to home, but what about an overdose of a kid in his school? Someone known to his son?" — Tom
• "I think Hank will become a partner in crime. He will have a hard time keeping this info from his superiors and maybe even have to kill to keep things secret." — hsjpatman
• "Welcome to the blogging community, Hank! Not much for talking to cops but I do have one thing to ask of you, and that is take it easy on Jesse when you catch him!" — Johnny B Good
Log onto the Talk forum to join in any of these conversations, or to start a Breaking Bad topic of your own.
Read More