Talk Forum – What You're Saying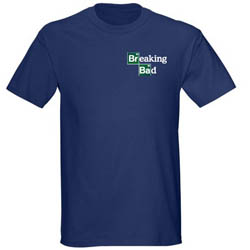 Throughout Breaking Bad Season 2, AMCtv.com will award Talk forum commenters quoted in our weekly "What You're Saying" post with prizes like a Breaking Bad poster or a Breaking Bad t-shirt (limit one per person).
Season 2's second episode proved just as exhilarating as the first, leaving fans clamoring for more and lamenting Raymond Cruz's (Tuco) sudden departure from the show.
• "Forget 'the edge of your seat…' I was STANDING by the end of this episode! That was intense." — Lance Foxx
• "I can't believe how they've kept the tension up so high for two episodes now. I worry that Walt will have a heart attack from so much tension before the cancer gets him." — Kristina
• "I never thought I would grow so attached to such a violent, psychotic character, but Raymond Cruz nailed this part. He may have said the character was difficult to play, but he made it look easy." — James26
• "Last Sunday after the show, when I went to bed I actually had a nightmare that Tuco was after me. Thank God it was just a bad dream!" — supr dave
Log onto the Talk forum to join in any of these conversations, discuss Sunday's all-new episode or start a Breaking Bad topic of your own.
Read More