Talk Forum – What You're Saying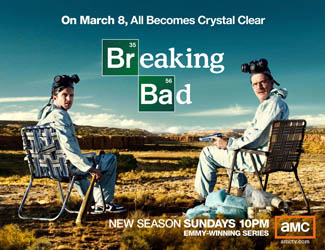 Throughout Breaking Bad Season 2, AMCtv.com will award Talk forum commenters quoted in our weekly "What You're Saying" post with prizes like a Breaking Bad poster or a Breaking Bad t-shirt (limit one per person).
Fans loved Breaking Bad's Season 2 premiere than the critics — and they spent the week dissecting Sunday's episode.
• "I loved the end because I was thinking "OK, we're gonna be on the run from Tuco all season,' and then ErrRrRRT! The car pulls up out front, Pandora's box (of cash) is sitting wide open in the baby's room, and Jr. is dipping chips off the fridge door." — ern2150
• "My thoughts on the episode mostly pertain to Tuco: I gotta tell you his character is spot on. I'm almost positive they used my friend (former dealer) Elmo as the inspiration for the role." — RCH2288
• "The episode reminded me a lot of horror movies — the long shots down the hallway, the making of a mysterious poison, and then you-know-who emerges from the back seat like some kind of insane zombie. They've got some really great tension going." — Kristina

• "I love that Walt's street name is Heisenberg. Heisenberg's Uncertainty Principle is a landmark of quantum physics. In a sense it states that the position or location of a particle can never be absolutely determined no matter how carefully or accurately it is calculated — just like Walt." — Avogadro
Log onto the Talk forum to join in any of these conversations, discuss Sunday's all-new episode or start a Breaking Bad topic of your own.
Read More