Video
Watch "Negro Y Azul" – A Breaking Bad Music Video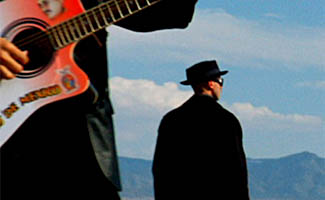 Catch a sneak peek of Breaking Bad with this exclusive music video, which will be featured in an upcoming episode.
Mexican band Los Cuates de Sinaloa performs a Narcocorrido (drug ballad), "Negro Y Azul" (Black and Blue), which sings the praises of a notorious yet unknown kingpin named Heisenberg whose blue crystal product has attracted the attention of Mexican drug cartels.
See first-hand the unintended consequences of Walt's drug operation — and what they could mean for his future well-being.

Read More