Photos
Download Walt's "Missing" Flyer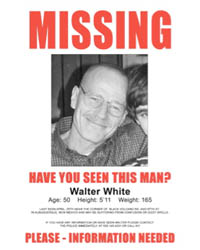 Now you can help Skyler find her wayward husband by downloading Walt's "Missing" flyer from Episode 2, "Grilled."
Just follow the link to get the full-size poster and right-click on it (or if you have a Mac, press CTRL + click) to save the image to your computer desktop.
Set it as your desktop wallpaper or print it out in individual sheets. Hang one on your refrigerator as a Season 2 souvenir, or strategically place them around town to let your neighbors know about your favorite AMC original series.
Click here to download the flyer now.
Read More