Video
Video – Episode 5 Sneak Peek, Inside Episode 4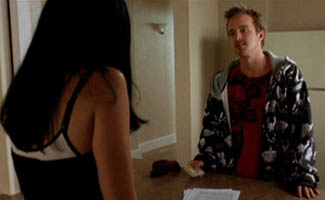 Find out where Jesse plans to crash for a while in a sneak peek of Episode 5, "Breakage," which airs Sun., Apr. 5 at 10PM | 9C. This video is no longer available.
Then, go behind the scenes with Inside Breaking Bad for Episode 4, "Down," where Anna Gunn defines her character's emotional boundaries and Aaron Paul talks about Jesse's worst day ever.
It's hard not to feel for Jesse when his band member won't let him stay overnight. Check out a behind-the-scenes video of TwaughtHammer (when the group had a bit more unity!) or better yet, experience their music video.
Don't forget that you can also now watch this week's episode (or catch up on previous Season 2 episodes) in a matter of minutes with our new video episode recaps.
Read More