Uncategorized
Q&A – Charles Haid (Episode 2 Director)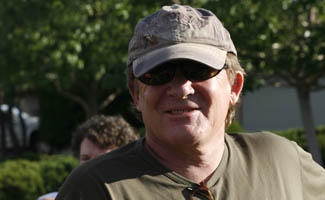 Hill Street Blues' actor-turned-director discusses working behind the scenes on Episode 2 of Breaking Bad and his desire to step into Dean Norris' shoes in AMCtv.com's exclusive interview.
Q: How did you end up working on the show?
A: I was up in Montana and we were — this sounds very strange — but we were branding cattle. I had already discovered the first season and went, "Oh man, what is this?" They were sort of doing Jacobean revenge tragedies for television. I know that sounds highfalutin but I come from the theater. Anyway a friend of mine was there, [Breaking Bad producer] Karen Moore. She told me she was doing the show and I said, "Oh my God, choose me." I'm running around saying, "Please let me do one. I'll do it." Meantime, I'm running after a cow.
Q: How did you feel when you read the script for Episode 2?
A: Really lucky. The structure of that particular episode is so different. I thought, "Man oh man, I get to do this? I felt like I was working with Samuel Beckett or something. Remember Waiting for Godot? They're out there in the middle of nowhere. Waiting for Tuco. Or it's like Endgame where people are trapped in some kind of hell of their own making. And how do you get out? There's no way of getting out of the place at all. There's no salvation, save death. They made it sort of like a weird little play.
Q: What was biggest challenge?
A: Time and money. It always is. The thing we were most concerned about was the amount of material we had to do out of that house. We did it in 5 days. There was enough talent there to make everything else terrific. Everybody showed up to that house and everybody stayed in that house until we got it, and it was done with very little strain, very few problems. But it was hard as hell to do it because we were in the middle of the g______ desert in that g______ house.
Q: How did you convince the audience that Tuco might actually kill the stars of the show?
A: Raymond Cruz is a Humvee. You see what he does in the episode? That's what I'm most proud of — that I was able to work with Raymond on that performance. It could have been s___. That performance could have just been over the top and man, that son of a bitch pulled it together. I was just so proud of him. The intention of this episode was to make it so psychologically terrifying. That had everything to do with the acting of it and the writing of it. All I had to do was aim the camera right.
Q: You still do some acting now and then. Will we see you on the show?
A: Oh I don't know. I'd love to be on Breaking Bad but they sorta got me covered because they got Dean. Dean Norris is absolutely amazing.
Read More